Students will have the opportunity to learn Hoi's award winning Fashion Brow technique in an intimate, semi-private educational setting. This is an introductory device-only course intended for artists new to the industry or inexperienced with device fundamentals.
Hoi's signature Fashion Brows incorporate strategic hair stroke placement alongside pixel shading to create hyper realistic brows. The utilization of the Nano technique, a permanent make up device, provides artists with the flexibility required to custom tailor brows for every unique client. The Nano technique is at the forefront of the cosmetic tattooing industry, providing a less invasive alternative to microblading or combination brows. A single needle cartridge is used to insert pigment into the skin, reducing the amount of trauma inflicted and ultimately extending the period between touch ups. Artists are not only able to adapt to varying skin types and sensitivities with ease but expand their creative abilities.
Our three day device training will provide you with the fundamentals required to begin your journey as a cosmetic tattoo artist. A student kit, lunch, and beverages are included in the registration cost. Students will receive a certificate of completion on the final course date. We provide continued support to all students for the longevity of their careers.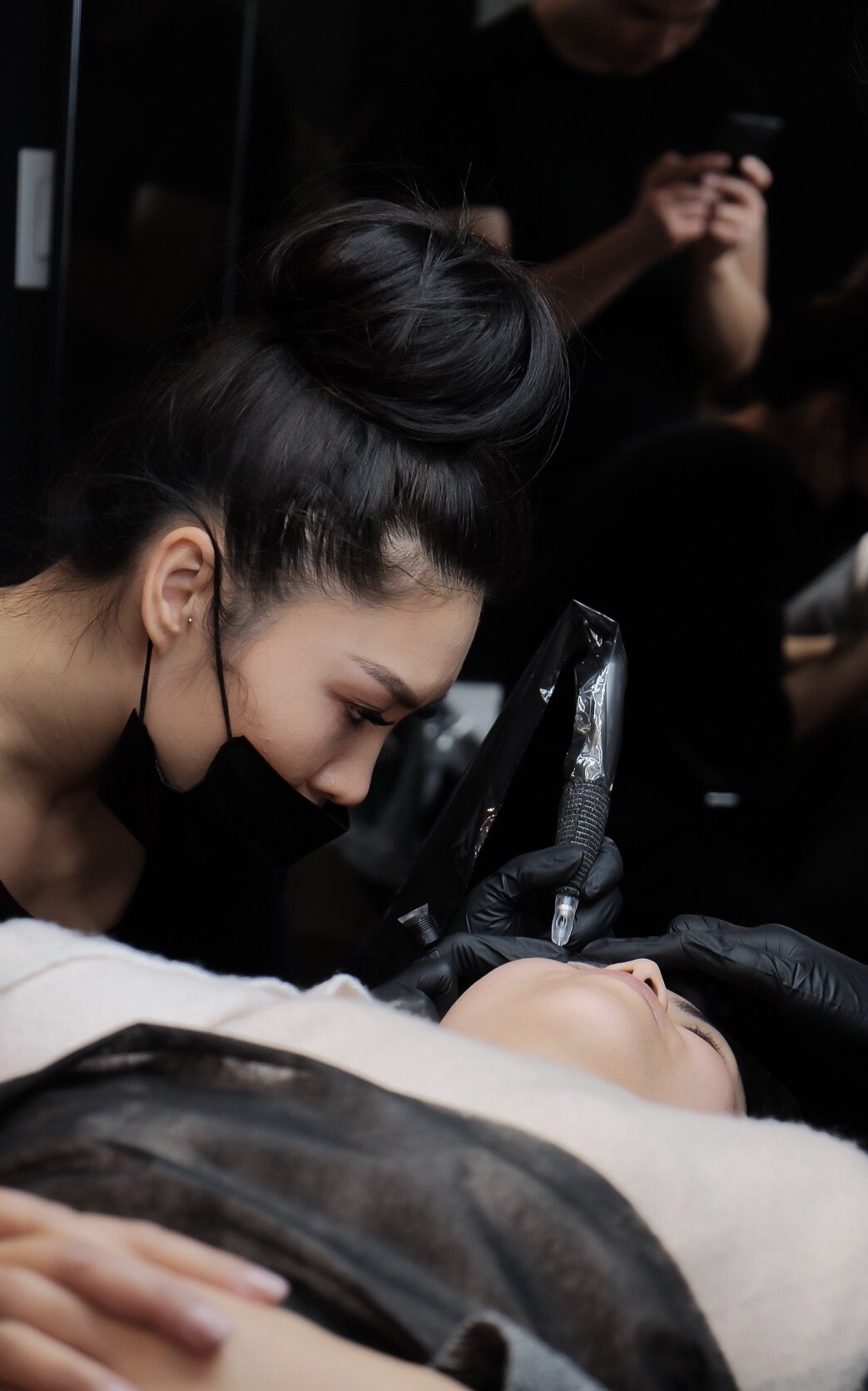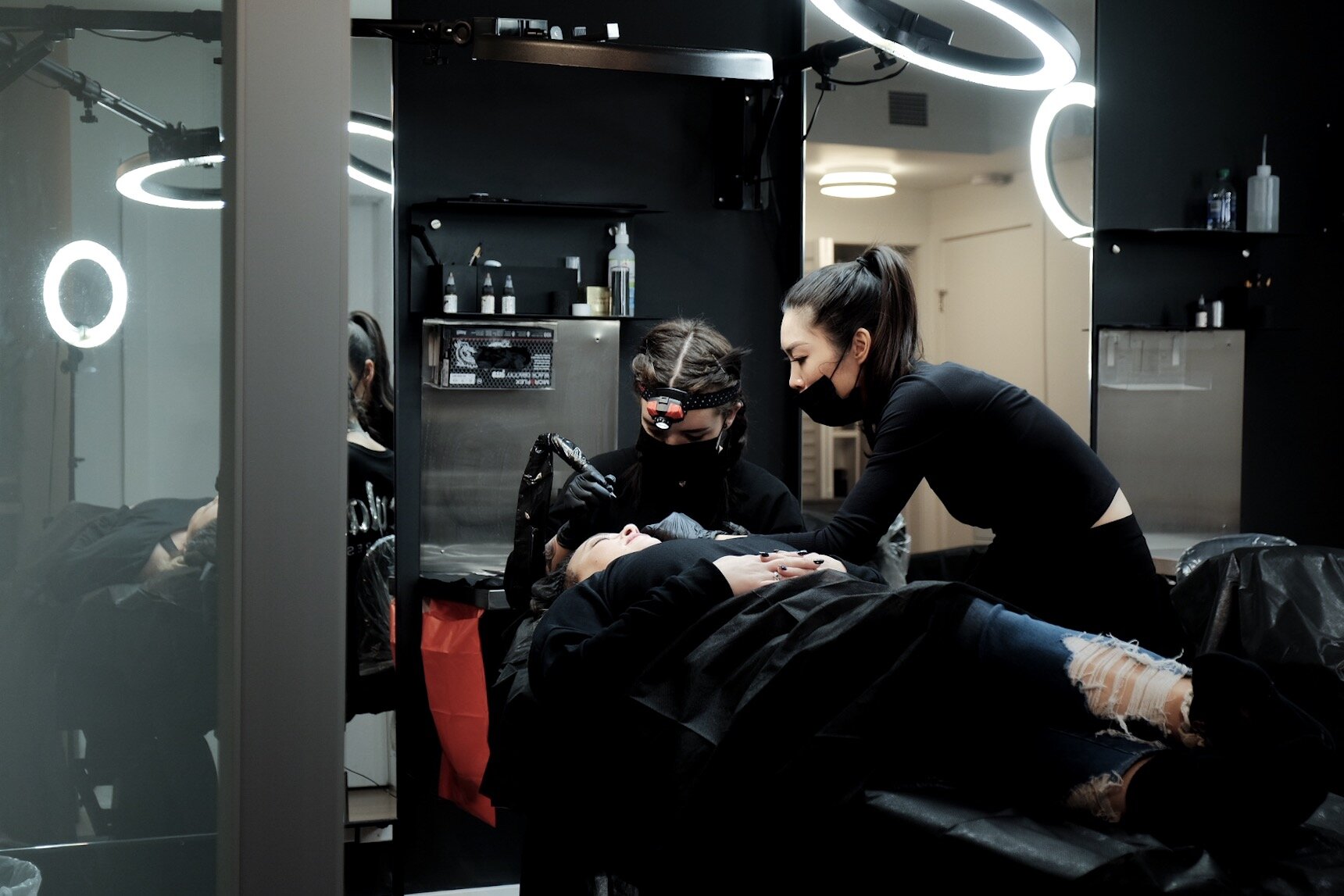 DAY 1
FOUNDATIONAL THEORY + HAIR STROKE DESIGN
AMIEA FUNDAMENTALS. Students will learn foundational information essential to the art of cosmetic tattooing. Topics include who is suitable for cosmetic tattooing, pre-appointment/post-appointment care, and the potential risks associated with the procedure.

THE STUDY OF SKIN ANATOMY. Our skin consists of several layers with varying thicknesses. Understanding how the variation between these layers affects healed results is essential to successful cosmetic tattooing practices. Students will be provided with concise information regarding skin depth, proper pigment insertion, and how healed results can be affected by improper practices or certain skin types.

NANO DEVICE HAIR STROKE THEORY. Students will study the methodology behind creating realistic hair strokes. Hair stroke design, direction, and bundling will be covered.
LUNCH
BROW SHAPING AND DESIGN. Building upon the creation of individual hair strokes, students will be guided through shaping and tailoring brows for a variety of unique facial features. Proper brow mapping is a key component of brow design, and students will have the opportunity to practice measuring and adapting brow design patterns to suit individual clients.

NANO BROW HANDS ON PRACTICE. Students will practice creating hair strokes and brow designs on pig skin / latex. Machine handling (set up, handling of the hand piece, differences between cartridges, speeds and configuration) as well as proper skin depth will be addressed and implemented.
DAY 2
POWDERED SHADING + TRAINER DEMONSTRATION
SOFT POWDER BROWS. Powdered shading adds density and dimension to the brow without compromising the natural end result. Students will learn the technical skills necessary to strategically place shading, building upon the hair stroke frame. Shading is an essential component to successful cosmetic tattoo cover ups.

COLOR THEORY. Several factors must be taken into consideration when determining the correct pigment color. Students will learn how to find the pigment color most compatible with the client's skin undertones, as well as the keys to pigment mixing and color correcting.
LUNCH
TRAINER DEMONSTRATION + SET UP / TEAR DOWN. Hoi will apply the skills learned (brow mapping and design, color theory, hair stroke and powder shading techniques) on a live model. Proper set up and tear down as well as sanitization practices will be covered before, during, and after the demonstration.

POWDERED SHADING HANDS ON PRACTICE. Students will practice powdered shading alongside brow design and mapping on pig skin / latex. Hoi will provide constructive feedback at the end of the practice session.
DAY 3
STUDENT LIVE MODEL PRACTICE + CERTIFICATION
MARKETING + SOCIAL MEDIA. Social media platforms are a powerful tool for upcoming artists. Students will learn important marketing techniques to maximize their online growth. Hoi will provide tips and tricks in translating online interest to studio clientele. How to take and edit client photos will also be covered.

FINAL EXAMINATION. Student will apply their knowledge of brow design, hair stroke and powder shading techniques, and machine handling in a hands on exam. The exam will be completed on pig skin with Hoi provided feedback upon completion.
LUNCH
STUDENT LIVE MODEL PRACTICE. Students will set up stations and complete a Nano procedure on a live model under the direct supervision of Hoi. The procedure will provide students the opportunity to practice brow mapping and shaping on a live model, implement health and safety practice in real time, and work with human skin. Students will also participate in tearing down and sanitizing the station post-appointment.

CERTIFICATION. Students will be awarded with a certificate of completion.